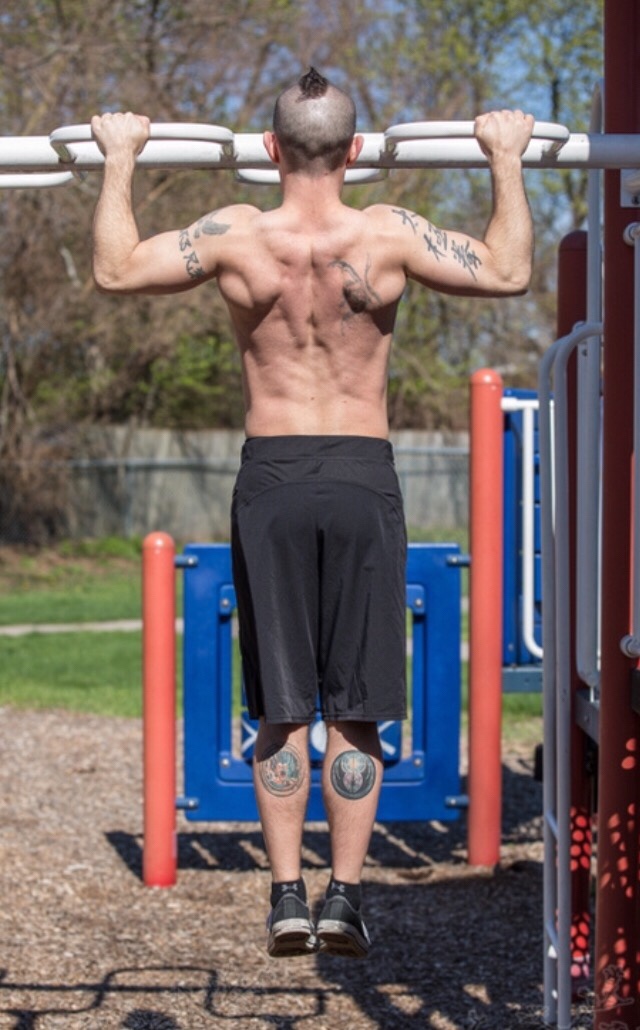 03 Apr

Why I Get Fit With Calisthenics Over Weights.

ALTHOUGH WEIGHT TRAINING DOES HAVE BENEFITS, CALISTHENICS HAS MANY OF THE SAME BENEFITS WITH A LOWER RISK OF INJURY AND MORE MUSCLES INCORPORATED AT ONE TIME. I WANT TO START WITH MENTIONING, I HAVE NO REAL PROBLEM WITH WEIGHT LIFTING, I DID IT FOR A LONG TIME. AS A MATTER OF FACT, I HAVE A LOT OF FRIENDS WHO PREFER WEIGHT TRAINING TO OTHER FORMS OF FITNESS. HOWEVER, CALISTHENICS, OR BODY WEIGHT TRAINING, IS THE OPTIMAL WAY TO EXERCISE. BEFORE WE GET INTO THE WORKOUTS, WE WILL START WITH THE VERY LONG-STANDING HISTORY OF BODY WEIGHT TRAINING. CALISTHENICS HAS BEEN AROUND SINCE THE DAWN OF MAN. OUR EARLY ANCESTORS USES THEIR HANDS AND FEET TO CLIMB TREES TO PICK FRUIT AND EVADE PREDATORS. CALISTHENICS IS A FORM OF EXERCISE USING BODY WEIGHT TO ACHIEVE FITNESS. IN ANCIENT GREECE, THE HUMAN FORM WAS IMPORTANT; THERE WAS EVEN THE BELIEF THAT, THE BETTER THE PHYSIQUE WAS, THE CLOSER TO A GOD YOU WERE. THEIR GYMS DIDN'T HAVE FANCY EQUIPMENT OR HUGE AMOUNTS OF WEIGHT, THEY HAD CALISTHENICS. AS A MATTER OF FACT, AN EARLY MENTION OF CALISTHENICS WAS FOUND IN THE WRITINGS OF THE ANCIENT GREEK PHILOSOPHER HERODOTUS FROM BETWEEN 450 AND 420 BCE. IN HIS WRITINGS, HE MENTIONS A SPY FROM XERXES' ARMY WHO WITNESSES THE SPARTAN ARMY PRACTICING CALISTHENICS IN THE NUDE BEFORE THE BATTLE OF THERMOPYLAE. IT WASN'T ONLY THE GREEKS THAT TRAINED CALISTHENICS, BUT ALSO PEOPLE OF INDIA WITH YOGA AND THE SHAOLIN MONKS OF CHINA WITH KUNG FU AND BODY CONDITIONING. IN YOGA, YOU ARE CONSTANTLY STRETCHING YOUR MUSCLES AND THEN HOLDING THEM IN ISOMETRIC POSES WITH NO WEIGHT. KEEPING THEM IN THIS FLEXED POSITION CAN INDUCE MUSCLE GROWTH. IN KUNG FU BODY CONDITIONING, SOMETHING I HAVE YEARS OF EXPERIENCE IN, THE PRACTITIONER USES THEIR OWN BODY AND THE LOCAL ENVIRONMENT TO BECOME FIT. THIS CAN INCLUDE CRAWLING UP AND DOWN STAIRS ON YOUR HANDS, CLIMBING TREES OR DOING ELEVATED PUSH-UPS WHILE A PARTNER HOLD YOUR FEET WHILE THEY HOLD A SQUAT. BODY WEIGHT TRAINING HAS BEEN AROUND SINCE THE START OF FITNESS AND IS STILL BEING USED TODAY.
MUSCLE ACTIVATION WHEN COMPARING BODY WEIGHT VS. LIFTING WEIGHTS
IN EXERCISE YOUR PROGRESS COMES DOWN TO PROPER MUSCLE ACTIVATION, SO LET'S COMPARE RESULTS IN MUSCLE ACTIVATION. PUSH-UPS RECRUIT MORE MUSCLES AT ONE TIME THAN THE BENCH PRESS. WHY IS THAT? WHEN A PUSH-UP IS DONE WITH PROPER FORM, THEY WILL ENGAGE YOUR ALL THE CORE MUSCLES, NOT JUST YOUR CHEST, SHOULDERS, AND TRICEPS. WHEN THE BENCH PRESS IS BEING USED, THE BENCH PROVIDES THE STABILITY FOR THE CORE MUSCLES. THIS MEANS THAT ALL MUSCLE IN YOUR BODY OTHER THAN YOUR CHEST, SHOULDERS, LATS, AND TRICEPS WILL HAVE LITTLE ACTIVATION. THE PULL-UP NOT ONLY ACTIVATES THE LATS, AND THE REST OTHER UPPER-BACK MUSCLES, BUT ALSO ACTIVATES THE ABS MORE THAN MANY OTHER KNOWN AB EXERCISES LIKE SIT-UPS AND CRUNCHES. WHEN COMPARED TO THE PULL-UPS, PULL-DOWNS, PURPOSEFULLY REMOVE THE CORE MUSCLE STIMULATION BY HAVING THE USER IN A SEATED POSITION WITH THEIR LEGS HELD IN PLACE BY A CUSHION OR A HARNESS. WEIGHT TRAINING TYPICALLY ISOLATES ONE MUSCLE AT A TIME, SO IT DOESN'T EMULATE REAL LIFE SITUATIONS. TO BE FUNCTIONALLY FIT, EACH EXERCISE SHOULD INCORPORATE MULTIPLE MUSCLE GROUPS AT ONE TIME. THIS IS WHAT WE DO IN EVERYDAY LIFE. IT IS CLEAR TO SEE THAT USING YOUR OWN BODY WEIGHT IS THE OPTIMAL TRAINING METHOD TO ACTIVATE MULTIPLE MUSCLES AT ONE TIME.
SIMPLICITY
ANOTHER ASPECT TO LOOK AT IS SIMPLICITY OF THE EXERCISE. DO YOU NEED TO BUY BUNCH OF EQUIPMENT OR NEED A GYM OR CAN YOU DO IT ANYWHERE YOU ARE? A HUGE ADVANTAGE OF CALISTHENICS VERSUS WEIGHT TRAINING IS THE ABILITY TO WORKOUT ANYWHERE YOU ARE AT ANY TIME. ALL YOU NEED IS SPACE TO PRACTICE YOUR ROUTING AND MAYBE A PULL-UP BAR OR A LEVEL STOOL. I PERSONALLY LIKE TO GO TO LOCAL PARKS, EVEN MORE SO ON NICE DAYS. THE PLAYGROUNDS AND PARKS HAVE ALL THE BARS AND BENCHES YOU WILL EVER NEED. AS FOR WEIGHT TRAINING YOU MAY HAVE TO GET A GYM MEMBERSHIP OR BUY A LOT OF EXPENSIVE EQUIPMENT. ANOTHER THING TO CONSIDER IS, IF YOU ARE LIFTING HEAVY WEIGHT, ENOUGH NEEDED TO STIMULATE THE MUSCLE GROWTH, YOU MAY NEED A SPOTTER OR HAVE TO HIRE A TRAINER TO ENSURE SAFETY. THE WORST INJURY TO WORRY ABOUT IN A FAILED PUSH-UP IS A BRUISED EGO. ALSO CONSIDER, WHEN LIFTING WEIGHTS, YOUR POSSIBILITY OF GETTING INJURED INCREASES, SO IF YOU ARE NEW TO WEIGHT LIFTING SHOULD SEEK TRAINING FROM A QUALIFIED TRAINER TO ENSURE YOU HAVE PROPER FORM IN EACH LIFT.
GAINING STRENGTH
BOTH CALISTHENICS AND WEIGHTLIFTING ARE BOTH GREAT FOR STRENGTH TRAINING, AND USEFUL FOR DEVELOPING MUSCLES, WEIGHT TRAINING IS A FASTER MEANS TO GAIN STRENGTH. THE REAL QUESTION IS, IS IT BETTER? WHEN PUT TO THE TEST, THE PULL-UP CAME OUT ON TOP AS THE BETTER POUND-FOR-POUND WAY TO BUILD STRENGTH. THE PULL DOWN, ALTHOUGH IT IS GREAT FOR THE NEW GYM GOER, IT DIDN'T OFFER MUCH IN THE WAY OF FUNCTIONAL STRENGTH GAIN. HOWEVER, THE PULL-UP WILL PROVIDE AN UNBIASED WAY TO JUDGE YOUR STRENGTH-TO-WEIGHT RATIO. YOU COULD ARGUE THAT THE PULL-UP WILL EVENTUALLY GET EASIER, WHERE THE PULL-DOWN BECOMES MORE CHALLENGING WHEN YOU JUST ADD MORE WEIGHT. ALTHOUGH THIS HOLDS A TRUTH, YOU CAN CHANGE THE DIFFICULTY OF A PULL-UP BY ADVANCING TO THE ONE-ARM PULL-UP, WHICH IS AN INCREDIBLE CHALLENGE. OVERALL THE STRENGTH GAINS IS A TIE. BUT, IT DEPENDS ON WHAT YOU CONSIDER STRENGTH. IF PUSHING AS MUCH WEIGHT AS POSSIBLE IS THE GOAL, THERE IS NO BETTER CHOICE THAN THE BENCH PRESS. WHILE PUSH-UPS CAN HELP YOU CREATE GREATER RELATIVE STRENGTH, THE BENCH CAN FOSTER GREATER ABSOLUTE STRENGTH.
INJURY RISK
WORKING IN THE FITNESS INDUSTRY FOR AS MANY YEARS AS I HAVE, I HAVE SEEN MY SHARE OF FITNESS INJURIES. ALL THE INJURIES I HAVE SEEN HAVE BEEN WEIGHT LIFTING RELATED, NEVER CALISTHENICS RELATED. THIS ISN'T TO SAY YOU WILL NEVER GET INJURED. WITH ANYTHING YOU DO IN THE FITNESS WORLD COMES SOME RISK. YOU CAN SEE HUNDREDS OF VIDEOS ONLINE DISPLAYING MANY DIFFERENT FITNESS RELATED INJURIES, BUT LET'S NOT BE TOO HASTY TO JUDGE. THE POSSIBILITY OF INJURY WHEN WEIGHT LIFTING IS FAR MORE LIKELY THAN IT IS IN CALISTHENICS DUE TO BAD FORM WHEN TRAINING. PEOPLE WHO GET INJURED IN TRAINING USUALLY DO SO BECAUSE THEY ATTEMPTED SOMETHING FAR OUTSIDE OF THEIR CURRENT ABILITIES. IN A HEAVY BENCH PRESS, POOR FORM CAN CAUSE SHOULDER PROBLEMS SUCH AS MUSCLE OR TENDON TARES OR OTHER ISSUES PARTICULARLY IN THE LONG TERM. PUSH-UPS WITH BAD FORM CAN ALSO BE AN ISSUE, BUT SINCE YOUR BODY IS WHAT CREATES RESISTANCE THERE WON'T BE AS MUCH STRAIN ON THE JOINTS. WITH WEIGHTED SQUATS I HAVE WITNESSED GYM MEMBERS RIP THEIR ACL AND MENISCUS, AND WITH LIFTING TOO HEAVY ON DEADLIFTS I HAVE SEEN HAMSTRING TEAR AND BICEP TEARS OR EVEN GO AS FAR AS RIPPING MUSCLE IN THE LOWER BACK. AS I SAID, IT ISN'T TO SAY YOU WILL NEVER GET INJURED IN CALISTHENICS, IT IS JUST FAR LESS LIKELY THAN IT IS WITH WEIGHT TRAINING.
ADAPTABILITY
BOTH, CALISTHENICS AND WEIGHT LIFTING OFFER MANY VARIETIES OF EXERCISES YOU CAN PERFORM, BUT THERE WILL BE A WINNER IN THE END. THE PULL-DOWN MACHINE OFFERS MANY DIFFERENT HANDLES YOU CAN ATTACH TO PULL GIVING YOU VARIOUS GRIPS AND WIDTHS, BUT THE PULL-UP OFFERS EVEN MORE THAN YOU CAN IMAGINE. THERE ARE TOURNAMENTS DEDICATED TO JUST SHOWCASING ALL THE PULL-UP STYLES OUT THERE. THEN WE HAVE THE BENCH PRESS, THIS OFFERS VERY LIMITED VARIATIONS TO WORK WITH, FROM DUMBBELL CHEST PRESS TO BARBELL BENCH PRESS, WIDE OR NARROW GRIP OR PLAYING WITH ANGLE OF BENCH YOU ARE ON. AS FOR PUSH-UP VARIATIONS, THERE ALMOST NEVER-ENDING VARIATIONS WITH FOOT AND HAND PLACEMENTS. BY ELEVATING YOUR HANDS OR FEET YOU CHANGE WEIGHT LOAD ON YOUR ARMS. YOU CAN GO WIDE OR NARROW WITH HANDS AND FEET OR GET CREATIVE AND DO PUSH-UPS ON YOUR KNUCKLES, FINGERTIPS OR THE BACK OF YOUR HAND OR WRIST. YOU CAN ALSO FOCUS ON ONE SIDE AT A TIME BY DOING PUSH-UPS ON ONE ARM AT A TIME. THIS WILL MAKE SURE EACH SIDE OF YOUR CHEST IS TRAINED EVENLY. THIS WILL KEEP YOU PHYSICALLY AND MENTALLY STIMULATED FOR YEARS TO COME.
CONCLUSION
IN CONCLUSION, CALISTHENICS OR BODYWEIGHT TRAINING IS THE CLEAR WINNER. CALISTHENICS HAS BEEN TIME TESTED, AS IT HAS BEEN AROUND SINCE THE DAWN OF MAN, AND IT STILL REMAINS IN THE FITNESS INDUSTRY. YOU CAN EASILY GAIN STRENGTH, AS YOU WOULD IN WEIGHT LIFTING, WHILE REDUCING THE CHANCE OF INJURY. IF THAT IS NOT ENOUGH, YOU ALSO GET THE OPTION TO LEAVE THE GYM AND TAKE YOUR WORKOUT WITH YOU EVERYWHERE YOU GO, SUCH AS THE PARK, LIVING ROOM OR EVEN AT THE BUS STOP. THE OPTIONS OF EXERCISES ARE NEXT TO LIMITLESS AS WELL, THERE ARE COUNTLESS PUSH-UP, PULL-UP AND SQUAT VARIATIONS YOU CAN DO, USING THE BEST EQUIPMENT OF ALL, THE HUMAN BODY. ALL MOVEMENTS CAN BE PROGRESSED AND REGRESSED BY JUST CHANGING ANGLES OR HAND AND FOOT POSITION TO INCREASE OR DECREASE DIFFICULTY AND CONSTANTLY KEEP YOU CHALLENGED WITH MINIMAL RISK. IN THE END THE MOST IMPORTANT THING IS, YOU CONTINUE TO BE ACTIVE, FIT, AND HEALTHY. TRAIN SMART AND WORK WITHIN YOUR LIMITS TO PREVENT THOSE POSSIBLE INJURIES. EVEN THOUGH THERE IS MINIMAL RISK OF INJURY IN THE WORLD OF CALISTHENICS, IT IS NEVER A BAD IDEA TO WORK WITH A FITNESS PROFESSIONAL TO GET NEW IDEAS TO PUSH YOU TO NEW LEVELS OF FITNESS. WORKING WITH A PERSONAL TRAINER IS ALSO A GREAT WAY TO MAKE SURE YOUR FORM IS WHERE IT NEEDS TO BE TO GET THE BEST POSSIBLE RESULTS.