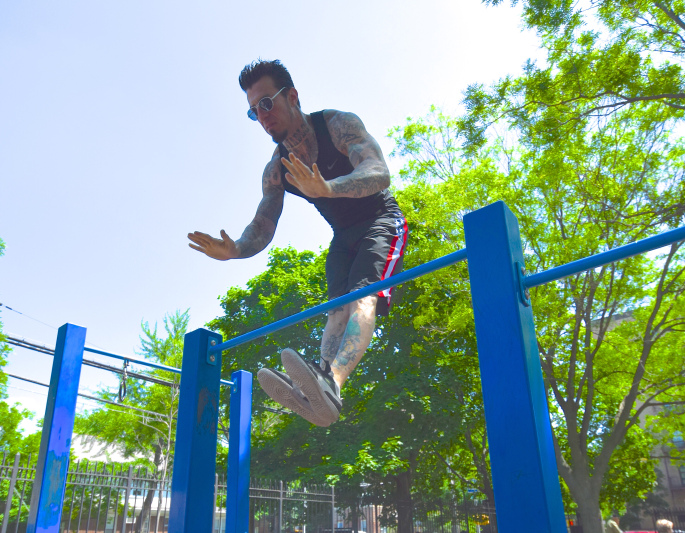 04 Apr

Danny Kavadlo Calisthenics Experience

JOIN DANNY KAVADLO AND RAY SHONK ON JUNE 9TH 2018, FROM 8 AM TO 6 PM, FOR THIS ONE DAY CALISTHENICS EXPERIENCE AT QUEST FITNESS. WE WILL BE COVERING THE BASICS INCLUDING PUSH-UPS, PULL-UPS AND SQUATS AND THEN GOING INTO THE HOW TO OF MUSCLE-UPS FLAGS AND MUCH MORE! THIS EVENT IS DANNY'S FIRST TRIP TO MICHIGAN SO DON'T MISS OUT! DANNY WILL HAVE SOME OF HIS BOOKS AVAILABLE AS WILL RAY! CALL OR STOP IN TO REGISTER FOR THIS ONE TIME EVENT FOR ONLY $160.

DANNY KAVADLO IS ONE OF THE WORLD'S LEADING AUTHORITIES ON CALISTHENICS AND PERSONAL TRAINING. HE IS KNOWN GLOBALLY FOR HIS MINIMALIST PHILOSOPHY, FEATS OF BODYWEIGHT STRENGTH AND MOTIVATIONAL GIFTS.

MR. KAVADLO IS THE AUTHOR OF NUMEROUS DRAGON DOOR TITLES INCLUDING #1 AMAZON BEST-SELLERS GET STRONG AND STRENGTH RULES. HE HAS BEEN FEATURED IN THE NEW YORK TIMES, MEN'S FITNESS, AND THE HUFFINGTON POST, AND IS A REGULAR CONTRIBUTOR TO BODYBUILDING.COM AND TRAIN MAGAZINE.

WHEN NOT WORKING ONE-ON-ONE WITH CLIENTS IN HIS NATIVE NEW YORK CITY, DANNY TRAVELS THE WORLD INSTRUCTING GROUPS OF CALISTHENICS ENTHUSIASTS OF ALL WALKS OF LIFE.