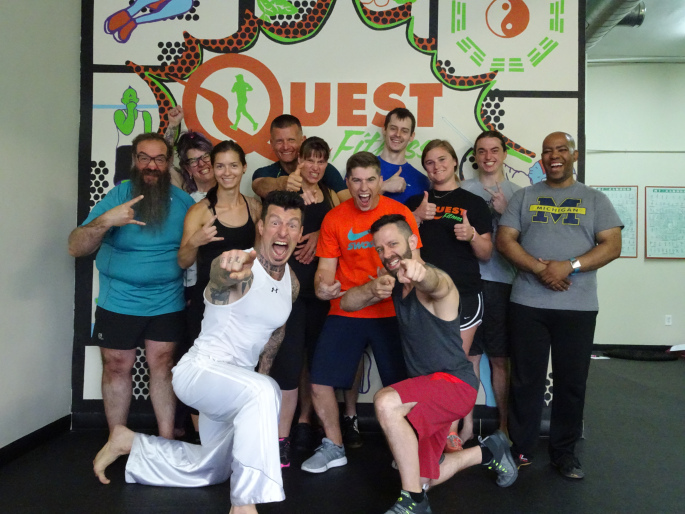 04 Apr

The Danny Kavadlo Experience At Quest Fitness

TO CALL THE EVENT WITH DANNY KAVADLO AN "EXPERIENCE" IS A GREAT UNDERSTATEMENT! FIRST LAT ME SAY, RUNNING THIS EVENT WITH MY CALISTHENICS MENTOR AND FRIEND WAS AN AMAZING HONOR! THE DAY STARTED WITH SIGN INS AND MEETING SOME NEW FRIENDS FROM OUT OF TOWN, ALL THE WAY FROM WISCONSIN. FOR PUTTING THIS TOGETHER WITH SHORT NOTICE, WE HAD A GREAT TURNOUT. AS THE CLASS STARTED WE WENT AROUND THE ROOM EACH ONE OF US INTRODUCING ONE ANOTHER, AND EVERYONE SEEMED LIKE MINDED WITH CALISTHENICS AND FITNESS.
DSC00078.JPG

WE STARTED THE CLASS WITH SQUAT PROGRESSIONS, BEGINNING WITH THE MOST BASIC, USING A BENCH OR PARTNER TO ASSIST. WE PROGRESSED THROUGH FULL SQUATS, ARCHER SQUATS, SPLIT SQUATS AND EVEN THE PISTOL SQUAT. I'M THINKING EVERYONE'S LEGS GOT A LITTLE COOKED THERE.
DSC00113.JPG

ONCE WE FINISHED LEGS, WE HIT THE PUSH-UPS. YEAH, I KNOW WHAT SOME OF YOU ARE THINKING. NOT EVERYONE CAN DO PUSH-UPS, BUT IN THIS CLASS WE PROVE THAT WRONG. WE STARTED WITH THE KNEE PUSH-UPS AND MOVED INTO ELEVATED PUSH-UPS, AND LIKE EVERY THING ELSE WE FOCUSED ON PERFECTING THE MOVEMENTS AND QUEUES TO AID OTHERS. THEN WE HIT THE FLOOR WORKING ON CLASSIC PUSH-UPS, STAGGERED AND ARCHER PUSH-UPS, FEET ELEVATED AND MANY OTHER INCLUDING THE HANDSTAND PUSH-UPS.
DSC00131.JPG

WE FINISHED THE MORNING BY TAKING A TRIP TO THE BAR… THE PULL-UP BAR. YES, I FULLY UNDERSTAND THAT PULL-UPS ARE DIFFICULT, BUT WE HAD SOMETHING FOR EVERY LEVEL OF FITNESS. GETTING STARTED ON THE PULLS WE HIT AUSSIE PULL-UPS, A.K.A BODYWEIGHT ROWS. I HAVE TO SAY, EVERYONE HERE KILLED THESE! THEN, WE MOVED ON TO FLEX HANGS AND PULL-UP NEGATIVES. WE HAD A STRONG GROUP, BECAUSE AGAIN EVERYONE NAILED THESE. WE DISCUSSED THE CHIN-UP, PULL-UP AND OTHER VARIATIONS LIKE THE COMMANDO PULL-UPS. OF COURSE WE FINISHED THIS SECTION WITH THE MIGHTY MUSCLE-UP. THEN, WE TOOK A MUCH NEEDED LUNCH BREAK, TOOK SOME PHOTOS, SIGNED BOOKS AND CHATTED IT UP.
DSC00207.JPG

UPON OUR RETURN FROM LUNCH, WE HIT HAND BALANCING, STARTING IT OFF WITH FROG AND CROW POSES. FOR SOME THE HAND BALANCING WAS A BIT NEW, FOR OTHERS IT WAS A CHANCE TO SHOW THEIR SKILLS. WE KNOCKED OUT THE TRIPOD, AND THE HEADSTAND, AND FOR A FEW ATTENDING THE ELBOW LEVER! I WAS IMPRESSED WITH EVERYONE'S PERFORMANCE.
DSC00250.JPG

WHEN WE MOVED ON WE HIT SOME AB TRAINING BOTH ON THE GROUND AND ON THE BAR. WE ALL HIT THE BASICS WITH KNEE TUCKS, KNEE RAISES AND LEG RAISES. AS WE PROGRESSED, A FEW PEOPLE TRIED SKIN THE CAT, BACK LEVERS AND EVEN THE FRONT LEVER! THESE ARE NOT EASY IF YOU ARE CURIOUS.
DSC00284.JPG

TO FINISH OFF THE WORKOUT, WE HIT FLAGS! SO MANY PEOPLE GOT THEIR FIRST FLAG! WE COVERED A LARGE VARIETY OF THEM, TOO! I CANT TELL YOU HOW OVERLY IMPRESSED I WAS WITH EVERYONE! "THE BEAUTY OF THE EXPERIENCE IS THAT NO MATTER WHAT LEVEL A PRACTITIONER WAS AT, EVERYONE CAN DO A PUSH, PULL, AND SQUAT EXERCISE. YOU NEED NOT BE ABLE TO DO A FULL HUMAN FLAG IN ORDER TO TRAIN WITH DANNY KAVADLO OR LEARN FROM THE EXPERIENCE," ONE OF THE ATTENDEES, GERALD BROWNING, STATED.
DSC00342.JPG

WHEN WE HIT THE CLOSING OF THE SEMINAR, DANNY GAVE AN AMAZING LECTURE ON CALISTHENICS PROGRESSIONS, BUILDING PROGRAMS AND EVEN BEING A BETTER TRAINER. A LOT OF GREAT QUESTIONS CAME OUT FROM THE GROUP AS WE WRAPPED UP AND CHATTED IT UP. BECAUSE OF THE GREAT TURNOUT AND THE LEVEL OF FUN WE HAD, DANNY AND I DECIDED WE MAY TRY TO MAKE THIS AN ANNUAL EVENT WITH NEW MATERIAL EACH TIME. I WANT TO ABSOLUTELY THANK EVERYONE WHO MADE IT OUT, AND A SPECIAL THANKS TO DANNY FOR FLYING ALL THE WAY OUT HERE TO TEACH THE CLASS!